Hemp Foods Dinner Celebration

Thank you to all who attended the iHempWA Association AGM and inaugural Hemp Foods Dinner Saturday 19 September.
An event to mark the Celebration of the establishment of the Western Australian Hemp Industry, the People, the Stories and the Produce.
The evening was a sensation of gastronomical hemp food experiences interspersed with entertaining speeches from hemp industry trendsetters at No Menu finest Italian 448 Beaufort St Highgate, Perth. The perfect setting to celebrate 5 years of iHempWA 'Working together to create a better world' with our members, local Western Australian hemp producers and businesses.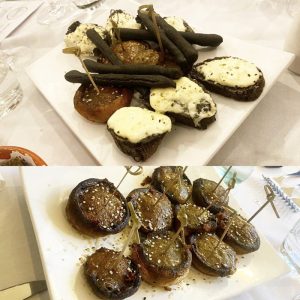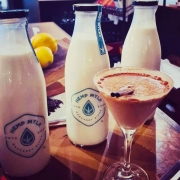 While the welcome drinks, Smoked Hemp Gin cocktail or non-alcoholic Dope Mylk mocktail and canapés, beautiful homemade grissini bread sticks with Activated Hemp Charcoal served with Happy Hemp Bee Honey, juicy baked field mushrooms and Hemp Zeppole, both with Hemp Protein were being enjoyed. Our newly appointed chairperson David Chick respectfully acknowledged we were on Whadjuk boodjar and reminded us of the original people who sustainably farmed these lands in harmony with nature for at least 70,000 years
before our recent arrival. He thanked the pioneers of the young hemp industry in WA especially Athol Chester 90 years young, and he recognised the courage and determination of the current industry movers and shakers.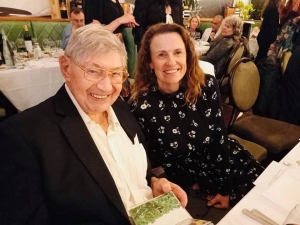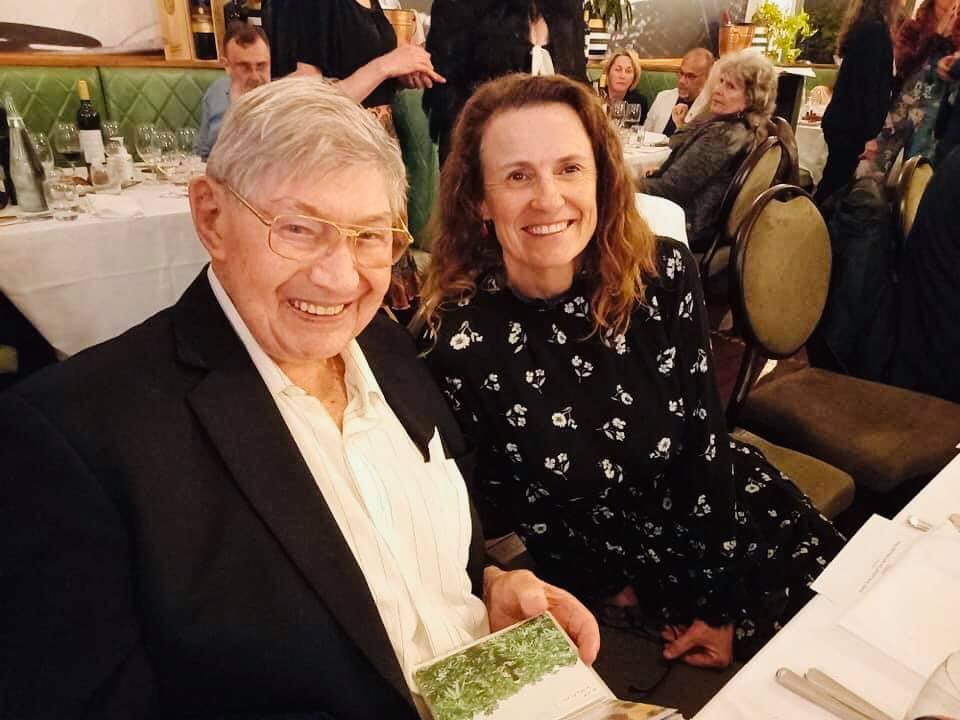 David asked the new committee to stand up, and the present members, and he  said, "This is how iHempWA operates, this is our volunteer human resource." David finished by thanking all present for their support and took great pleasure in officially opening the celebration.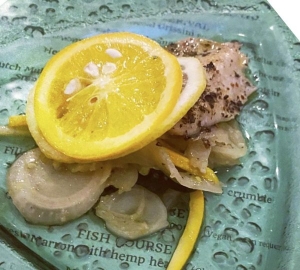 Noongar elder Mat McGuire blessed us with a spiritual welcome to country in local tribal language and a song with boomerang accompaniment.
Filleted Trout with Roasted Hemp Seed Crumble
The most talked about dish of the evening, gluten free Hand Made Hemp Gnocchi was made with Hemp Flour and pan fried. Whilst the colour was at first very different to the traditional white gnocchi, the crispy outside texture on the pillows of goodness were delightful along with the accompanying Porcini Mushroom sauce… such perfection 🙂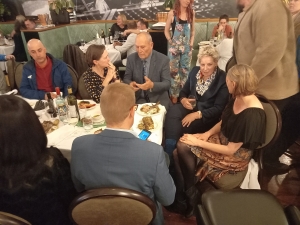 The ingestion of fine hemp foods was interspersed with much conversation, hemp industry networking and guest speakers.
Hon Alannah MacTiernan who is our industries' greatest political advocate, congratulated the emerging Hemp Industry stakeholders on their individual efforts and our collaborative achievements thus far. The Minister's commitment is evidential, a handful of grant recipients were in the room and she made time to hear from anyone who wished to speak with her. She knows her stuff and urged us all to keep doing what we're doing. The Minister stayed with us for the entire evening and personally congratulated the organisers on the event's success.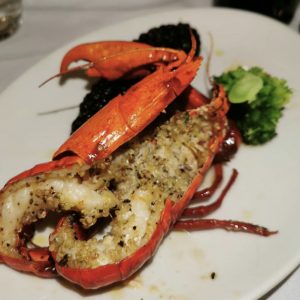 Fresh Marron with Hemp Hearts
We invited two speakers to feature at our celebration of the establishment of the WA Hemp Industry reflecting their achievements; Robert Edkins Managing Director of Food Land & Fibre International the first business to produce a surplus of hemp seed, announced they have 35,000kg available for sale and said, "We have big things in the pipeline and we need more hemp farmers." With more exciting news Gary Rogers of Hemp Homes Australia spoke with his usual passion for hemp, the benefits of hemp buildings and announced the Decortication (hemp stem processing) facility in Margaret River is set to be turned on in October 2020. "We need more raw product to feed the machine, we need more growers and we need to create a WA textile industry."
Georgina Wilkinson of Margaret River Hemp Co, who works tirelessly for the industry, her business and family, is our previous committee Chairperson of 2 years and is always inventing new ways to use hemp announced; a joint venture with a southwest winery to produce the world first hemp seed fermented wine.
Put on the spot in his seat Paul Mavor Pharmacist was asked for an update on the TGA's application to down schedule CBD. He said, "CBD looks highly like to be down scheduled in Feb 2021 to Schedule 3. This could mean CBD products may soon be available over the counter in Australian pharmacies."
Roasted rack of lamb with a mustard and Roasted Hemp Seed Dukkah crust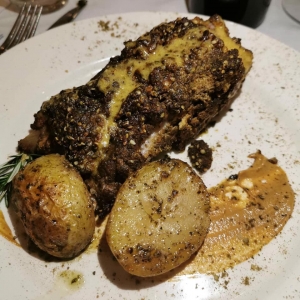 Attendees were given a glimpse into a very successful business model, via audio visual presentstion, by Cameron Syme of the Distllery Co. Then introduced to a new start up by Sara Males, one of the all female business partners that are Dope Mylk producing the finest quality Hemp Milk from hemp seeds grown on their southwest land. Gail Stubber, EO of HempGro WA's Hemp Farming Co-operative, invited everyone to to brainstorm business ideas, "We are looking to develop hemp business partnerships."
Bronwyn Blake from Vasse Valley Hemp farm, she said, "My partner Chris and I are working hard to create local demand for hemp foods, a task which will prove instrumental in completing the WA supply chain for the emerging hemp seed industry. Hemp seed is not mainstream yet and most people have never tried it before. Because hemp seed is so nutritious, tasty and easy to use we imagine it won't be long before it becomes a pantry staple. Hemp seed does not contain THC and is perfectly safe for everyone to eat, including children and pregnant women. The most appealing health attribute of hemp seed is its fatty acid profile. It is well balanced in omegas, particularly omega 3. Many people who follow a typical Western diet are deficient in omega 3 and this can lead to a wide range of health issues."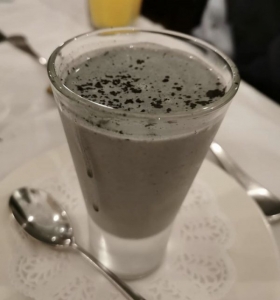 To complete our culinary experience we were offered Barista cappuccino with frothy vegan Dope Mylk and / or Individual Hemp Milk panna cotta with Activated Hemp Charcoal
Our major event sponsor Wortkoorl Workwear directors briefly spoke about their company an Aboriginal majority and LGBTIQ owned company run entirely by women. Our mission is to move forward together by creating ethically and environmentally sustainable workwear. Our products are designed to benefit everyone, from the people who grow and farm the hemp, the people who design and create our clothes, as well as the people who wear them. We supply hemp hi-vis shirts nationally and are about to release navy hemp work trousers and toilet paper, all made from carbon negative hemp!Elia Saba opened eyes, mouths and minds by displaying the variety of composite construction prototype materials he has been creating, he plans to produce hemp bricks & roof tiles. Other diners spoke of their passion for creating hemp soap and skin care ranges. The question is what can we not do with this amazing plant?
Elia Saba opened eyes, mouths and minds by displaying the variety of composite construction prototype materials he has been creating, he plans to produce hemp bricks & roof tiles. Other diners spoke of their passion for creating hemp soap and skin care ranges. The question is what can we not do with this amazing plant?
Charley Cannon from Hemp'N'Healthy provided the vegan hemp chocolates and the entertainment for the evening. An educational skit; with the help of his quirky friend, hand puppet, Bis, Professor Canna introduced the Endocannabinoid System, explained what it is how it works and why it is so important.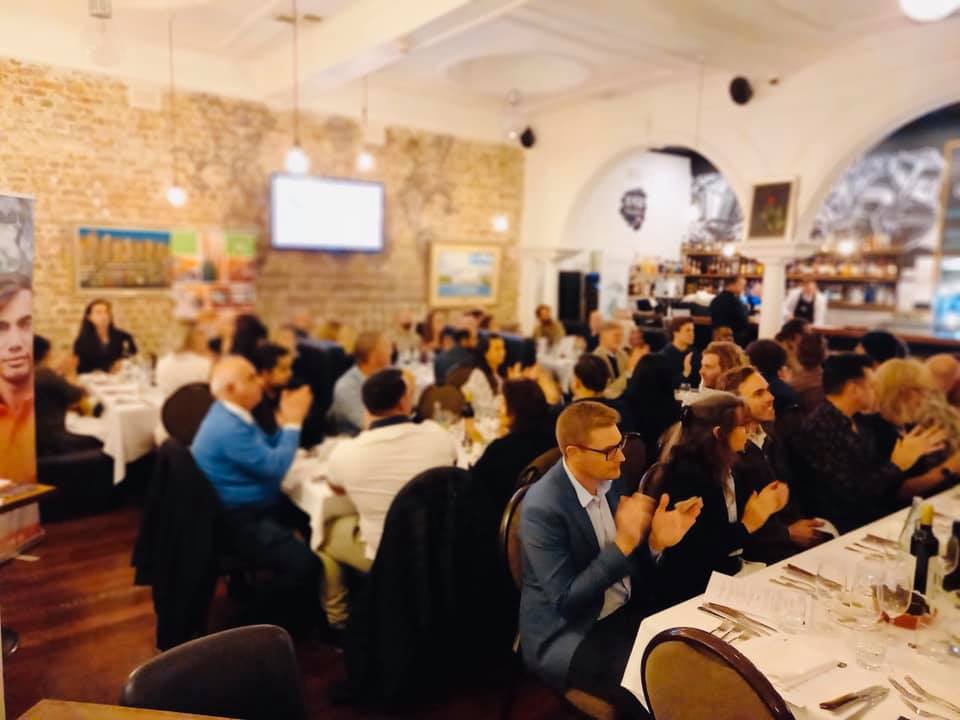 The generously provided local hemp produce inspired master chef Maurizio and his team to create some new, unique, fresh and exquisite dishes. We offer huge thanks to the producers and suppliers of hemp food products for the event.
iHempWA acts as a catalyst bringing together various relevant government departments, investors, research and development organisations and companies from parallel industries who are involved in farming, primary production, food, fibre and health sectors.
Together it is our mission to support each other, educate our community about Hemp and it's countless benefits and create a more sustainable world for future generations to come…
https://ihempwa.org/ihempwa/wp-content/uploads/2020/08/Invite-Poster-01.jpg
1789
1276
:David Chick
https://ihempwa.org/ihempwa/wp-content/uploads/2023/08/Logo2023V2-1-e1694341013908-300x116.png
:David Chick
2020-10-01 20:11:03
2020-10-10 16:20:48
Hemp Foods Dinner Celebration